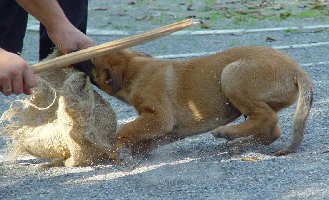 We sell puppies and trained adults (Personal Protection, Police and Sport/Competition).
All dogs are guaranteed

Personal protection:
The dog I choose for personal protection needs to have a naturally strong character, social with people and stable in the environment. He also needs to be tenacious in the face of an aggressive and determined adversary. Depending upon his qualities, the dog for protection may also be a good reproducer.

To obtain a high level in competition, the dog needs to have a strong character, with just a little sensitivity to accept perfect control in his training. This is the dog for competition. The dog for reproducing will always test you and make the control difficult and later impossible. You can compete at the top with what I call a "reproducer", but only when he is very young and for a very short period of time. Make sure when you call us for puppy you understand what you need.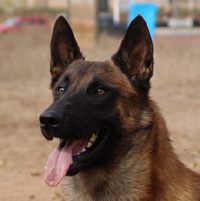 Litter 1 - Sired by "London" des Contes d'Hoffmann - Trained for IPO.The Dam"Leyla des Contes d'Hoffmann. These pups will be large with strong character ,a lot of drive, full bite, large/strong bodies suitable for IPO or personal protection.Puppies will be ready to go by July 2018


Please call for a complete and updated list of dogs available for sale. Our pups got FAST, so contact us early.

Telephone:
(cell) 562-213-7914
Email: laurebelloni@me.com